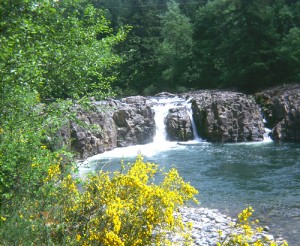 Wildwood Falls is a beautiful swimming hole and waterfall located on the Row River near Cottage Grove, Oregon. The falls are about 20ft. and pour off a rock ridge into a large swimming hole. The cliffs above the swimming hole are great for cliff diving and jumpers usually leap off to the left of the main falls.
Location: Wildwood is located about 45 minutes outside Eugene, Oregon or 25 minutes outside Cottage Grove, Oregon. Google Maps – Eugene to Wildwood Click Here for the Map
Time Involved: All day or just an afternoon. I usually spend a few hours here just relaxing and swimming on a hot summers day.
Adventure Specifics:
Cliff Diving – There are a few points where you can jump off the cliffs into the swimming hole itself. The main one is a little to the left of the main falls (standing at the top). Be sure to check the depth before you jump.
Swimming -The water at Wildwood is relatively cold year round and usually only maxes out in the low-mid 70's even during the hot summer months.
Hiking – This area is fun to explore and there are a few trails here and there.
Warnings: This swimming hole is VERY dangerous at high flows. Also, the runoff area by the falls is extremely dangerous as well. Do not swim directly beneath the falls. There is a small cave underwater and behind the falls that you can become trapped in. The rocks to the swimming hole entrance are also fairly slippery. DO NOT try to go down the waterfall.
What to Bring: Bathing Suit, Sun Screen, Tennis Shoes, Water shoes for climbing rocks, etc.
Amenities: Picnic Tables, Porta-A-Potty
Best Times to Go: Summer and Early Fall before the rains arrive.
General Comments: Wildwood is a great place to cool off in the summer. On extremely hot weekends the area can get pretty crowded though. The swimming hole is just over 20ft. deep.
Other Adventures Nearby: Bohemian Mining Country