Slide Rock at Lake Creek Falls near Triangle Lake is a unique natural water slide, swimming hole, and cliff jumping area located near Junction City, Oregon, approximately 50 minutes from Eugene. At the entrance to the recreation area, a small waterfall empties into a quaint swimming hole, with a cliff jumping area located directly across the creek. The cliff jumping features dangling ropes and multiple jumping platforms at 25 and 35 feet. The water below is plenty deep, but USE CAUTION. Further down the creek from the waterfall and pool are the natural water slides. They extend roughly 100 feet at a gentle slant and dump into a warm wading pool. The slides can be done with any variety of floaties, on bare bottom, or, if brave, surfed on foot. If body sliding down, expect some road rash. The area is family friendly, but parents should use caution before letting their children play around the water slide.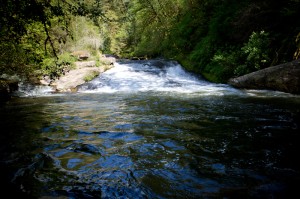 Location: Just half a mile south of Triangle lake, about 50 minutes from Eugene. A parking lot will be located on the right, and a trail down to the rock slides will be across the street.
Google Maps: Eugene to Triangle Lake Rock Water Slides
Activities:
Swimming: The uppermost pool offers a small swimming hole of moderate temperature with a warmer wading pool located below the rock water slide.
Cliff jumping: On the far side of the uppermost pool, highlighted by dangling ropes, are two accessible jumps at roughly 25 and 35 feet. Careful, the climb is more treacherous than the jump and the rocks are usually slippery.

Natural Rock Waterslide: Below the uppermost pool is the famous "Slide Rock", 100ft. of fun, slippery, natural rock sliding!
Warnings: Cliff jumping and natural rock slides are inherently dangerous and slippery, please use caution at all times.
Time involved: Half-day/Full day
Adventure specifics: The rockslides are located in a ravine and receive direct sunlight for a limited portion of the day.  Plan your trip around the sun's highest point; noon to 3p.m. won't disappoint. Bring a flotation device of some sort if you want to slide and avoid the road rash. Stores are lacking near by, so bring food and water if you plan to stay for any length of time.
Maps and Resources:
BLM Brochure and Map for Lake Creek Falls
What to bring: Swim gear, towel, flotation devices, water, food.
Amenities: A bathroom is available at the parking lot.
Best times to go: Noon-4pm/sun's highest points of the day. – Slide Rock is best visited in the summer months when the creek flows are lower and the weather is wam.
Other adventures near by: Triangle lake
Write Up By: Jennifer Stephens