Newberry Volcanic Monument – Officially created in 1990 within the Deschutes National Forest, Newberry Crater is a 17sq mile geologic wonder. The monument contains lakes stocked with fish, cinder cones, obsidian flows, waterfalls, camping, hiking and even some elusive hot springs if you know where to look for them. It's two main lakes, Paulina Lake and East Lake are surrounded by lush forests ands amazing peaks. The access road is seasonal and it is not uncommon for it to be blocked until after Memorial Day. The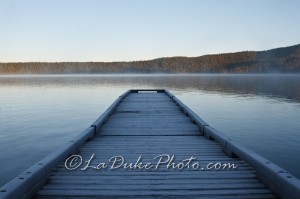 Location: Paulina Lake (the approximate center of the crater) is about 3 hours from Eugene. The best route to take is the Willamette Highway (58) across the Crescent Cut-off and then north on US-97 until you see the signs for the Newberry Volcanic Monument about 30 miles south of Bend.
Google Maps: Eugene to Newberry Crater
Adventure Specifics
Hiking & Mountain Biking:
There are several great hiking and mountain biking opportunities around the crater. A few of the more notable routes are:
Rim Trail (#3957) is a 21 mile loop around the crater. It is classified as difficult primarily due to its length and lack of water sources, but has very rewarding views of forests, lakes and volcanic formations. Also open to horses.
Big Obsidian Flow Interpretive Trail (#3958)is a must see if you are limited on time, the one mile trail wanders through Oregon's youngest lava flow and has several interpretive signs. Watch your step though, the obsidian is sharp!
Paulina Peak Trail (#3951) is a steep (8% grade) but short (.5 mile) offshoot of the Rim Trail to the top of Paulina Peak. From the top you can see all the way from Mount Adams to Mount Shasta on a clear day. The views are unbeatable!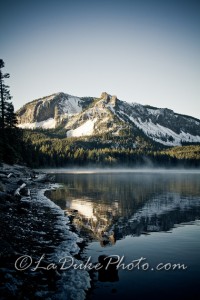 Fishing: Paulina and East Lake contain large numbers of Kokanee Salmon, Brown, and Rainbow trout. East Lake also contains some Atlantic salmon. Two record size brown trout have been pulled from Paulina Lake. 
East Lake Fishing Info: East Lake Resort – Fishing Info
Camping/Lodging: There are 7 campgrounds in the Newberry Monument including Little Crater, Paulina Lake, Newberry Group Camp, Chief Paulina Horse Camp.
Snow Sports – The Paulina Lake/Newberry Crater area is popular for snow sports such as snowmobiling, snow shoeing and cross country skiing. The historic Paulina Lake Resort is open all winter to provide lodging to snow sport aficionados.
Additional Adventures: Check out the newly remodeled Lava Lands Visitor Center and nearby lava caves for and additional adventure near the monument.
Time Involved: There are plenty of places to explore in the Volcanic Monument, you can spend as much time as you'd like.
Best Time to Go: Late Spring, Summer, and Early Fall. The roads are not well maintained and many of the attractions in the area are not open after October as the weather is unpredictable.
Amenities: Toilets, Snacks, Restaurant, Cabins, Camping.
Usage Fees: $5 day pass / $30 annual pass.  Northwest Forest Pass is required at some trailheads.