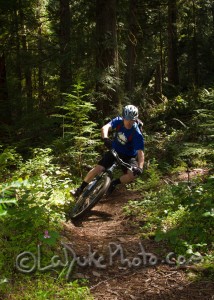 The North Umpqua Trail parallels the N. Umpqua River east of Roseburg, OR for 79 miles of hiking and biking. The Tioga section is the first section you come to when approaching from Roseburg or Glide and it is about 16 miles of aerobically demanding hill climbs to gorgeous views. The trail in predominantly single track and this section ends at Wright Creek.
Location: The Trailhead for the Tioga Section (and the start of the N. Umpqua Trail) is at the Swiftwater Picnic Area about 6 miles east of Glide, OR.
Time Involved: A couple of hours to all day. It depends on how far you want to go before you turn back and if you are biking or hiking.
Adventure Specifics: The first couple miles are gentle and wind through a lush green forest across creeks and through ferns. At about mile 3 you start a pretty brutal climb (it may be easier on hikers but I was hauling myself up on my mountain bike) This is the ascent of Bob's Butte. It is definitely worth the haul up it. Beyond Bob's Butte the trail got a little rougher and less maintained but was still fun. After the big downhill you level out for a bit and are met by another climb toward the end of this trail section.
Warnings: Watch for hikers and bikers, this is a popular trail section. Also wooden bridges and other features across streams can be VERY slippery.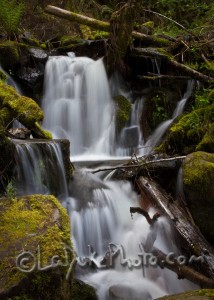 What to Bring: Hiking/Tennis shoes, water, bug spray, mountain bike, camera.
Amenities: Bathrooms, picnic tables and potable water at the Swiftwater Trailhead.
Best Times to Go: The trail can be really wet or even snowy in the winter. I visited in April and definitely got covered in mud.
General Comments: If you are more interested in starting at the top and riding one direction instead of an out and back ride or hike shuttles are available from the Dry Creek Store (541)498-2215. This is also one of the only places to get gas once you get out of Glide.
Links to External Sites:
BLM Website / General Information
http://www.blm.gov/or/districts/roseburg/recreation/umpquatrails/
Oregon Biking Photos: