Spirit Falls is a gorgeous 40ft channeled waterfall, flowing over moss covered rock on Alex Creek near Cottage Grove, Oregon. Accessible year round at an elevation of 1900 ft and only a 2/3rd mile round trip day hike, Spirit falls is a great adventure for the whole family. Spirit Falls and nearby Moon Falls and Pinard Falls make a great full day adventure!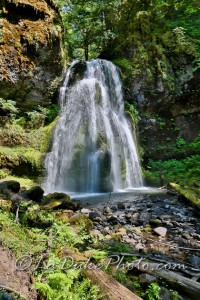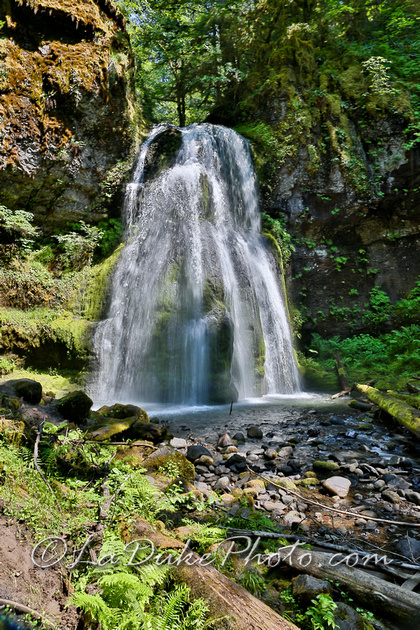 Location: Spirit Falls is located approximately 50 miles from Eugene, on Forest Service Road #1790 off Layng Creek Road (FS Road #17) outside of Cottage Grove, Oregon. The trailhead is well marked and while some of the road is gravel, it is easily accessed by all vehicles. While the trailhead for the falls can be access from Highway 58 (Oakridge Area), I highly recommend taking the route from Cottage Grove (mapped below) as it is paved almost all the way to the falls trailhead.
Click Here for detailed step-by-step directions – Directs to Bottom of Page

Google Maps: – Eugene to Spirit Falls
Adventure Specifics: Spirit Falls is accessed by a clearly marked and signed trailhead (Trailhead #1413) about 150 yards after you turn onto Forest Service Road #1790 (road marked for Spirit, Moon, and Pinard Falls). Parking is available on the right side of the road in a pullout directly at the trailhead.
The Spirit Falls trail winds approximately 1/3 of a mile through beautiful forests full of greenery and some species of wildflowers. While it's a relatively easy hike down to the falls on a well maintained trail, it can get muddy and slippery at times. As you approach the falls the trail gets moderately steep, but most hikers should have no trouble navigating the trail. Last time we visited, there were families with children of all ages at the falls.
Photography Tips: Lighting on these falls can be very tricky on sunny days. Sunlight filters through the trees and creates extreme contrast issues, which impact proper exposure of the falls. If you're looking for great photos of Spirit Falls, try going an overcast day or early or late in the day.
History:
Spirit Falls, originally named Andrea Falls, was discovered in 1978 by a USFS employee cataloging the land slumps in the Layng Creek watershed. In the early 1980's a Boy Scout troop constructed the trail to the falls and upon completion the troop asked the Oregon Board of Geographic Names to name the falls for the spirit of Scouting. (1)
Warnings: During the cooler months, the paths around the falls can be snowy and icy. Use caution. Spirit Falls is located within the Layng Creek Watershed (the water supply for Cottage Grove). Please respect and protect the water supply by following the No Camping and No Swimming Regulations within the Layng Creek Watershed.
What to Bring: A camera, water resistant jacket (if you plan on getting near the falls), and good walking/hiking shoes.
Amenities: Bench near the waterfall, picnic table near the falls. NO OTHER AMENITIES. No garbage receptacles. Pack it in, Pack it out!
Best Times to Go: Spirit Falls are generally open year round, but Spring and early Summer are the best due to higher water flows. Access to the falls may be closed off in the winter months due to low elevation snow. Consult with Cottage Grove Ranger Station (541-767-5000) or the US Forestry Department in Cottage Grove (541-942-5591) for status of Forest Service Roads #17 and #1790 before travel.
Nearby: Pinard Falls, Moon Falls, Bohemia Mountain, Wildwood Falls

Detailed Step-By-Step Directions: (Directions taken from resource (2) below)
Spirit Falls is east of Cottage Grove.
GPS N43º 43.844′, W122º 38.487′, Elevation above sea level 1900 ft.
Take Cottage Grove exit 174
Head east on Row River Road
Past milepost 4 continue straight onto Shoreview Drive
(Row River Rd splits off to the left – Shoreview Drive rejoins Row River Rd in another six miles)
Past milepost 19 Row River Road ends.
Turn left onto Layng Creek Road (aka Forest Service Road #17)
About 9 miles later look for Forest Service Road #1790 and turn right.
(signed for Spirit Falls, Moon Falls and Pinard Falls)
Drive up the gravel road for about 150 yards and park at the wide spot
in the road to the right. There will be a trail sign marked #1413.
The path winds around for about ¼ mile. There are no facilities.
This is part of the watershed for Cottage Grove – so no camping.
Resources and References:
(1) – http://www.waterfallsnorthwest.com/nws/falls.php?num=4151
(2) – http://www.oregonwaterfalls.net/spiritf1.htm