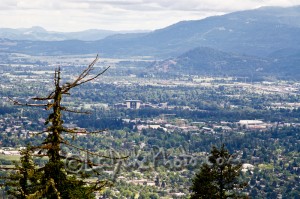 Spencer Butte, also know as Spencer's Butte, is the big mountain right in the backyard of Eugene. It tops out at an elevation just over 2,000ft and offers the some of the best views of Eugene and the Southern Willamette valley that you will ever see. There are numerous trails in Spencer Butte Park ranging from short and easy to long and steep. All of the trails follow meandering paths through wooded forests and eventually plant you at the top of the treeless, expansive, flat butte.
Location:
Willamette Trail Head (Google Maps) – Longest of the trails to the top – Just over 6 miles round trip if you follow the main path – 52nd and Willamette St
South Willamette Trail Head (Google Map) – Shortest of the trails to the top – Just over two miles round trip if you take the easiest route – 85401 South Willamette St
Fox Hollow Trail Head (Google Maps) – Slightly shorter than the Willamette trail head – Fox Hollow and Christensen Rd
Each Google Maps Link starts from the center of Eugene and takes you directly to the Trailhead.
Time Involved: 1 to 6 hours depending on how much time you want to spend and the trail head you take. From the Willamette trail head a round trip to the top and back with a short stop for scenic viewing only takes a few hours; this hike is about 5 miles round trip.
Adventure Specifics:
Check the links at the bottom of this post for more information on Spencer Butte Hikes including maps and parking information.
Warnings:
-DO NOT leave belongings in your car. There are no benches on the park trails and the trails can be pretty muddy during the wet season. The rocks near the summit can be slippery as well.
What to Bring: Hiking/Tennis shoes, water, sunglasses, and sunscreen.
Amenities: Trail markers at major intersections
Best Times to Go: Spencer Butte is hike-able year round but it can get pretty hectic during the rainy/cold season.
General Comments: Spencer Butte is one of my favorite hikes/areas. It is a must for anyone who visits Eugene. The trails are well maintained, wide enough for a group hike, and the butte (peak) itself is perfect for a nice picnic.
Links to External Sites:
Maps and Information – PDF Format – Zoom in to see the best map
Detailed Map of Spencer Butte Trails (PDF)
Detailed Map of the Ridgeline Trail System (PDF)
General Information
http://www.planeteugene.com/spencersbutte.htm
Link to the Ridgeline Trail System in Eugene
http://www.eugene-or.gov/facilities.aspx?page=detail&rid=129
Other Adventures Nearby: Skinners Butte