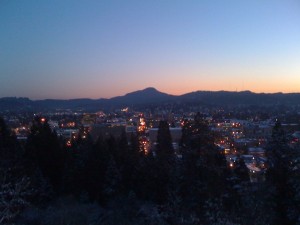 Overview: Skinner's Butte is the large prominent butte on the north edge of downtown Eugene. It was named after Eugene Skinner, the founder of Eugene. It tops out at an elevation of just under 700ft. and offers great views of downtown Eugene, especially at sunset. There are many trails going to the top of Skinner's as well as a paved road to the top.
Location: The big hill on the North edge of downtown Eugene. You can't miss it.
Google Maps Link to Parking – Click Here for the Map
Time Involved: The trails on the North end of the butte can be hiked round trip in 30 minutes to an hour max.
Adventure Specifics: A nice easy hike to the top of the butte for scenic viewing
Warnings: Don't leave valuables in your car.
What to Bring: Hiking/Tennis shoes and water if you get parched easily
Best Times to Go: Year Round, I find just around sunset to be the best time.
General Comments: There are multiple trails going up Skinner's Butte. If you walk East past the parking lot linked above you will find the trails
Other Adventures Nearby: Spencer Butte