Umpqua Lighthouse and State Park is an easily accessible and popular general recreation area located less than 100 miles west of Eugene and a short 12 minute drive from Reedsport. The area is known for the 65 foot lighthouse that overlooks Winchester Bay. With its famous red light, the Umpqua Lighthouse is the only lighthouse on the Oregon Coast with a colored light. It was put into operation in 1894 after the prior lighthouse at that location (the first lighthouse in Oregon) fell into the river due to erosion after a short 7 year lifespan.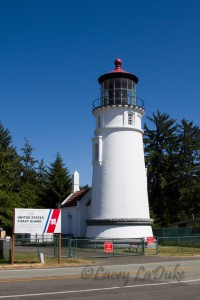 Fees: There is no fee to tour the lighthouse, groups are restricted to 8 or less individuals. Click here for camping fees: http://www.oregonstateparks.org/park_121.php
Location: Just under 2 hours West of Eugene. Take Highway 38 (The Umpqua Highway) East to Reedsport and then 101 South to Umpqua Lighthouse & State Park.
Eugene to Umpqua Lighthouse – Google Maps
Time Involved: I usually like to make a day trip out of this adventure and spend some time meandering up the coast. You can make a loop if you drive north to Florence and then head back inland to Eugene.
Adventure Specifics: Umpqua State Park is a general recreation area. Lake Marie has several campsites and when we visited there was a high concentration of ORVs playing on the nearby dunes. The beach is sandy and there is a long rock jetty.  Also don't miss the daily tours of the Umpqua Lighthouse May 1st – October 30th from 10-4pm.
What to Bring: Camera, hiking/walking shoes, binoculars, etc.
Amenities: Restrooms, campground with full RV hook ups, tent spaces and yurts, picnic areas.
Best Times to Go: A nice clear day.
Links to External Sites: Oregon State Parks Information
Other Adventures Nearby: Reedsport, Oregon,  Oregon Dunes, Lake Marie, Clear Lake, Bolton Island Tideways State Park.