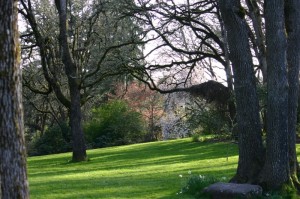 Hendricks Park is Eugene's oldest city park. Its 78 acres include a mature forest, a world-renowned rhododendron garden, and now a new native plant garden. Laced with trails, the park is a haven for hikers, birders, and others who enjoy retreating to the tranquility of nature. Without leaving the city, visitors can walk among Douglas fir trees two hundred years old, ferns, and wildflowers, such as trilliums and irises, and over six thousand varieties of rhododendrons and other ornamental plants.
Location: Hendricks Park is located just south of Eugene and UO at Summit and Skyline Dr. It is about a 10-15 minutes walk from the UO campus. Click here for a Google Maps Link
Adventure Specifics Hendricks is full of paved, dirt, and gravel paths to enjoy and explore. None of the trails in Hendricks are difficult and they are all very well maintained. Anyone can visit Hendricks park and most of the park is accessible by vehicle with 40 parking spots in various locations. Check out the links below for more information.
Warnings: The trails can get a bit muddy and slippery during the rainy season.
Amenities: There are restroom facilities located in the Rhododendron garden and across the street near the huge stand of firs.
Best Times to Go: Hendricks is beautiful year round, but when the flowers bloom in the Spring and early Summer it's one of the best places to visit in Eugene.
General Comments: Hendricks is great a place for a short afternoon hike, a leisurely stroll through the woods, or a picnic on a gorgeous day. Be sure to check out the Rhododendron garden and the views of downtown Eugene. Check out the links below for more information on what Hendricks Park has to offer.
Links to External Sites:
Friends of Hendricks Park – Information
South Eugene Parks – Information
Hendricks Park Map – Opens a PDF Map
Other Adventures Nearby: Skinner's Butte, Spencers Butte