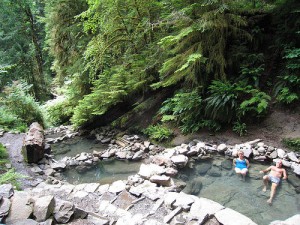 Cougar (Terwilliger) Hot Springs is located approximately 60 minutes outside of Eugene in the beautiful Willamette National Forest. The springs themselves consist of five tiered pools that become cooler as they flow away from the source. Recent improvements by Hoodoo Recreation has turned made the hot springs even better and cleaner than before. There is also a brand new covered shelter/changing area.
Type: Natural Hot Springs
Temperature: 112 Degrees in the upper pools to 85-90 Degrees in the lowest pool
Hours: Day Use Only
Fee: $6 Per Person Per Day
Parking: There is ample parking located at the trail head to the hot springs.

Location: Cougar Hot Spring are located about an hour east of Eugene off of highway 126.
Eugene to Hot Springs – Map
Click Here for the Map

Time Involved: Usually I like to schedule a nice afternoon at the hot springs. I try to plan for about 2 hours of travel and 2 hours soaking in the springs themselves.

Adventure Specifics: Once you get to the hot springs you have to walk about a 1/2 mile on a maintained dirt path through the woods. The trail head is located directly across from the parking lots and is very obvious. The five tiered pools range in size from 3-12ft. across and average about 2-3 feet deep. The pools are mostly bedrock, however the pools are sometimes lined with small gravel.
Warnings: These hot springs are clothing optional. Photography is not permitted without permission at the hot springs. Glass is not allowed.

What to Bring: Bathing Suit, towel, water, trail walking shoes
Amenities: There are pit toilets located near the hot springs.
Best Times to Go: The hot springs are open year round during daylight hours but in the winter time heavy snows often make the road to the hot springs impassable. If significant snow recently fell below 2,000ft. it may be hard to get to the springs.
General Comments: These hot springs are some of the best I've ever been too. They are clean, well maintained and the scenery is beautiful. One great benefit of these springs is that there is a cold water creek running parallel to them. After soaking for a while you can step into the creek for a nice cool down.
Other Adventures Nearby: Cougar Reservoir, Belknap Hot Springs/Resort (20 minutes away)