Toketee Falls is a breath taking two stage 113ft. waterfall located about 2-1/2 hours Southeast of Eugene (less than one hour east of Roseburg) just off of highway 138. The water plunges over picturesque mossy volcanic columnar basalt into the North Umpqua River near its confluence with the Clearwater River. The first stage of Toketee falls is somewhat difficult to view and falls 28 feet into a narrow shaded alcove. The main and more attractive section of waterfall plunges about 85 feet into a gorgeous rock lined blue pool.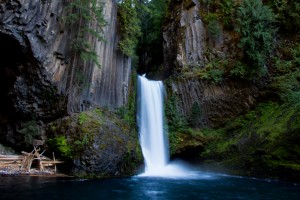 Location: Toketee Falls is located approximately 133 miles Southeast of Eugene directly off Highway 138, near Roseburg and Glide, Oregon.
Google Maps:  Eugene, Oregon to Toketee Falls, OR

Adventure Specifics: Toketee Falls is accessed via a shady 0.7 mile graded dirt and gravel path from the parking lot. The trail is relatively smooth and easy with multiple sets of natural rock and built stairs. There are handrails in steeper places, but it is not handicap accessible due to the several sets of stairs. The trail was closed for several years due to damage, but was reopened in 2011.
Warnings: Please stay on the designated trail. There are make-shift trails from the viewing area to the base of the falls, but they are extremely steep and dangerous. During the winter, the path to the falls can be slippery or difficult due to snow and ice. Use caution.
What to Bring: A camera, water and good walking shoes.
Amenities: Pit toilets, ample paved parking, well worn walking paths
Best Times to Go: Toketee Falls is accessible year round if you're not opposed all weather hiking. In the winter the trail will likely be hard to follow and require snow shoes. The flow the Falls is controlled by a dam less than a mile up steam that is part of the Umpqua hydroelectric project. A portion of the flow from the North Umpqua River is diverted by the 12 foot wood pipeline that runs along the parking lot toward Toketee Lake. This regulation keeps the flow relatively stable year round.

General Comments: The word "Toketee" is Chinook for "Pretty" or "Graceful" it was given this name in 1916. Toketee is one of the most photographed waterfalls in Oregon. The best time to photograph the falls is either on an over cast day, before 9am, or near sunset to avoid unfavorable light creating overexposure of the base of the falls and underexposure of the top tier of the falls.

Other Adventures Nearby: Watson Falls, North Umpqua Trail, Slide Creek Falls, Diamond Lake, Crater Lake