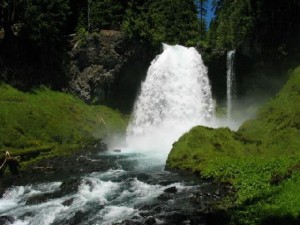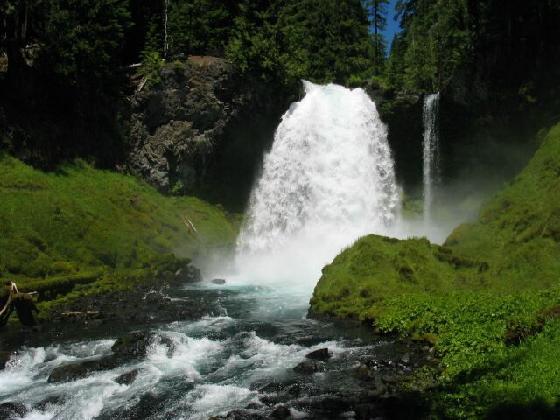 Sahalie Falls is a beautiful 140ft. waterfall located 75 minutes outside of Eugene on highway 126. The word Sahalie is a Chinook word meaning "high". These falls were formed 3,000 years ago when lava flows formed the McKenzie River.
Location: Sahalie falls is located approximately 60 miles outside Eugene directly off highway 126.
Google Maps – Eugene to Sahalie Falls – Click Here for the Map

Adventure Specifics: The waterfall is easily accessible via a paved path from the parking lot. The are also numerous dirt and paved paths in the area surrounding the falls that offer hiking and unique views of the falls themselves.
Warnings: During the winter, the paths around the falls can be snowy and icy. Use caution.
What to Bring: A camera, water resistant jacket (if you plan on getting near the falls), and good walking shoes.
Amenities: Pit toilets, paved parking, paved walking paths
Best Times to Go: Sahalie Falls are accessible year round but I find the best time to go is late fall or spring as the temperatures warm up and the snows melt. Summertime is great as well because you can actually walk behind the falls themselves but the flow coming over the falls isn't as spectacular.

General Comments: Sahalie falls and the surrounding area are one of the biggest reasons I like Oregon so much. To quote a friend after seeing the falls "Sahalie falls gave me a new respect for waterfalls". The shear size and beauty of these falls is worth the hour+ drive from Eugene. I could spend an entire day just taking pictures. Be sure to check out Koosah falls, just a few minutes down the road from Sahalie. If you like to hike, there is a Sahalie to Koosah falls trail that I've heard is beautiful.

Other Adventures Nearby: Koosah Falls, Tamolitch Pool, Trail Bridge Reservoir/Campground, Clear Lake