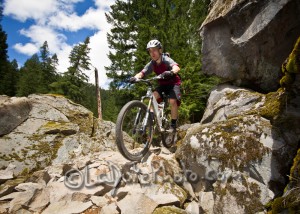 The North Umpqua Trail parallels the N. Umpqua River east of Roseburg, OR for 79 miles of hiking and biking. The Dread & Terror section is a 13 mile section of ridgeline trial with several unique water features. It is one of the most scenic sections of the trail. It takes its name from the dread associated with the potential threats of having to fight fires in the impenetrable thickets of white thorn bush that cover so much of the area.
Location: The Trailheads for the Dread and Terror Section are the parking area for Umpqua Hot Spring east of Glide, OR, or the White Mule Trailhead near the dam at Lemolo Lake.
Time Involved: A couple of hours to all day. It depends on how far you want to go before you turn back and if you are biking or hiking.
Adventure Specifics: If you're pressed for time the beginning of the trail at Umpqua Hot Spring contains both Surprise Falls & Columnar Falls at the outset. If you continue down the trail you will come across several small streams and seeps along the river. Several miles down the trail (near White Mule Cr.) you will come to Lemolo Falls which is a 102ft horsetail.
Warnings: Watch for hikers and bikers, this is a popular trail section. Also wooden bridges and other features across streams can be VERY slippery. Also I found the bugs to be particularly bad on this section, possibly due to all of the water.
What to Bring: Hiking/Tennis shoes, water, bug spray, mountain bike, camera.
Amenities: Bathrooms, picnic tables and potable water at the Umpqua H.S. trailhead. Full services and camping are available at the resort at Lemolo Lake.
Best Times to Go: The trail can be really wet or even snowy in the winter. I visited in April and definitely got covered in mud. I would suggest waiting until the winter run-off has subsided.
General Comments: If you are more interested in starting at the top and riding one direction instead of an out and back ride or hike shuttles are available from the Dry Creek Store (541)498-2215. This is also one of the only places to get gas once you get out of Glide.
Links to External Sites:
BLM Website / General Information:
http://www.blm.gov/or/districts/roseburg/recreation/umpquatrails/
http://www.blm.gov/or/districts/roseburg/recreation/umpquatrails/dread_and_terror_segment.htm
Oregon Biking Photos: