Known for their fantastic wildlife viewing, birdwatching, wildflowers, and nearby running and biking trails, the Delta Ponds are one of Eugene, Oregon's most well known casual recreation areas. The area is a 150 acre network of ponds, sloughs, and waterways near Valley River Center that act as a major haven for wildlife of all kinds. Over 100 species of birds have been recorded at Delta Ponds and the adjacent stretches of the Willamette River along with numerous fish and aquatic wildlife, including the threatened Western Pond Turtle.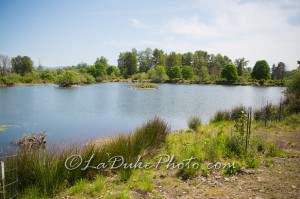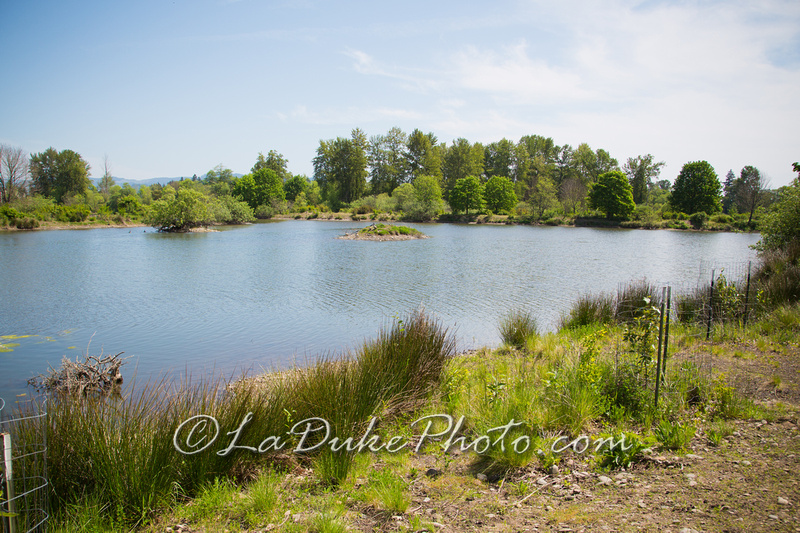 History: The ponds were the result of 1950's deforestation and gravel mining along the Willamette River.  After the gravel was harvested, the steep banked pits filled with water creating stagnant ponds. In the ensuing years the leftover paths around the ponds were left to nature and became over grown with blackberries and other vegetation until they became impassible.
In 2005, after ten years of planning, a notch was cut in the levy separating the ponds from the Willamette River and water flow was restored, creating a more suitable habitat for native plants and wildlife. Since then, further improvement has been made to the trails around the ponds, including the addition of informational placards, bridges, and wildlife viewing platforms. The restored backwaters and grasslands now provide very important habitat for young salmon, steelhead, and Canada Geese who use the area as a protected nursery.
Location: The Delta Ponds are located on the Willamette in North Eugene near Valley River Center. There are several places to park along Goodpasture Island Road and the largest parking area is just south of Kingsley Road.
Google Map: Eugene, Oregon to Delta Ponds Parking Area
Amenities: At the main parking area along Goodpasture Island Road is a parking area with roughly 10 parking spots, restrooms and a paved ADA accessible path. The path terminates at a viewing platform.
Warnings: Stay on the marked trails, this area is a delicate habitat for many fragile species. Not to mention, many areas are still home to nuisance plants such as blackberries and poison oak. Dogs should be kept on leashes or even left at home so as to not disturb the wildlife.
Best Times to Go: Any time is a great time to visit Delta Ponds, they are close to home and readily accessible. From early spring until late summer, various wildflowers are in bloom and the deciduous trees turn the area into a gorgeous, green wonderland.
General Information: There is something in Delta Ponds for everyone, from photographers and bird watchers to bikers and parents who need to get  the kids out of the house. Bring your camera, print off a copy of the bird watchers list that is linked below and enjoy a little bit of nature right in your own backyard.
Adventures Nearby: Skinner Butte, Owen Memorial Rose Garden, Alton Baker Park, Willamette River Trail

Links:
Additional Photos: