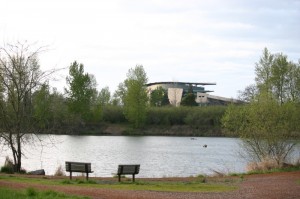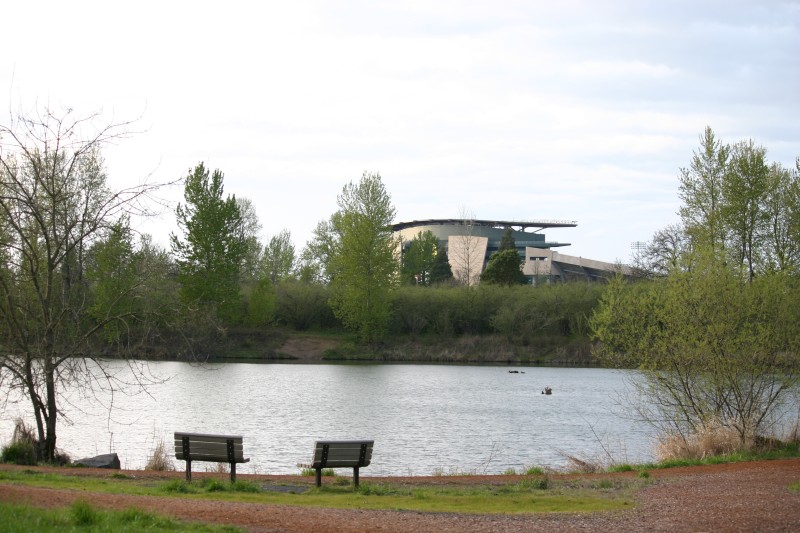 Alton Baker Park is Eugene's largest developed park with over 400 acres to explore. The park features miles of running trails (paved and dirt), river paths, duck ponds, large open fields, a dog park, and an overall beautiful environment. Named after Register-Guard founder Alton F. Baker, the park is divided into two distinct areas: the more developed West Alton Baker Park and the natural and serene East Alton Baker Park.
Location: North bank of the Willamette River smack dab in the middle of Eugene.
Click Here for a Google Maps Link
Activities:
Running:
Alton Baker is best knonw for it's miles of paved and dirt running trails, which is convenient since it's located in Track Town USA. The most famous of which is Pre's Trail, a classic compressed wood chip and bark trail, modeled after the cross country trails that Steve Prefontaine ran on in Europe. Another prominent trail is the river trail that follows the banks of the Willamette on both sides.
Check out the  Alton Baker Park Map for a detailed look at the running trails associated with Alton Baker.
Fishing:
The many ponds and canals of Alton Baker park are regularly stocked with rainbow trout for your fishing pleasures. They provide the perfect setting for both beginner and experienced anglers alike. It's not uncommon to limit out on trout or catch a nice summer Stealhead in the waters of Alton Baker Park. Click Here to see when Alton Baker was most recently stocked with fish.
Biking/BMX:
Whether you're looking for a leisurely ride along the river or some intense BMX action, Alton Baker Park has you covered. The BMX Track can be found near Autzen Stadium off of Leo Harris Parkway
Parks/Gardens:
Alton Baker is home to numerous gardens, wildflowers, and unique ecological zones.
Swimming:
During the hot summer months the banks of the Willamette provide some great swimming opportunities. Poke around the shore to find a nice place to wade, but BE CAREFUL! The water can be swift and COLD!
Time Involved: As much time as you want.
Park Activities: Running, picnicking, biking, BMX track (located near Autzen Stadium), duck ponds, gardens, dog park.

Best Times to Go: Any day of the year, I find nice, sunny days to be the best.
General Comments: Alton Baker is a great place to spend nice day outside. In the summer you can tan on the edge of the Willamette and even go swimming if it's hot enough. On especially hot days you'll often see people floating down the river on tubes or inflatable mattresses.
Links to External Sites:
Alton Baker Park Map
Youtube Video of the Park
More General Information
Other Adventures Nearby: Spencer Butte, Skinner's Butte
Feel free to post more information on Alton Baker Below! I update this regularly.